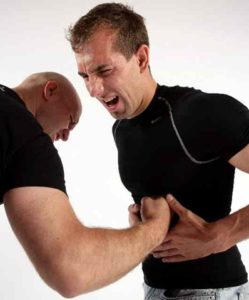 Have you ever been punched in the gut and had the wind knocked out of you? Consider yourself lucky if you haven't. But if you have, and I think most people have had the wind knocked out of them in one way or the other, I believe this is going to make a lot of sense to you.
Our Inner Compass
Life is a journey.
It's a journey broken up into several different segments. For lack of a better reference, think of life as a trek from California to New York. Some segments are going to boring. Some are going to be challenging. Some you're going to want to avoid all together. And some you're going to get through as fast as you can because you can't wait to see what's at the end.
As with every journey, in order to get where you want to go, you must have something to guide you along the way.
Gut Instinct
That's what it's called, gut instinct. And the part that separates right from wrong is your conscience. You need both components because sometimes your gut instinct will be telling you that you can or can't do something. But your conscience, at the same time, will be telling you if you should or shouldn't do it. They're kind of one in the same, but sometimes there's a slight contrast if that makes sense. The conscience is more on the moral side of guidance.
Just because you can do something doesn't mean you should do it.
Remember that.
Going Against the Tide
When you don't listen to your gut instinct it's like swimming upstream. If you're a really good swimmer, you're going to go nowhere. You'll just be paddling to stay afloat and eventually you'll wear out and just start floating with the current. And if you're just an average swimmer the current is going to take you downstream backwards.
Rapidly.
99.9% Accuracy
I've learned, mostly the hard way because that's how humans learn most of the time unfortunately, that you're gut instinct is right 99.9% of the time. I've gotten hurt because I tried doing things that were beyond my abilities. That doesn't mean you shouldn't push yourself at times though. I've ran out of gas because I didn't stop to fill up when I should've. And my gut instinct told me to stop. I've gotten involved with business ventures that I knew weren't right for me. But, I was focused on the possible outcome and thought the daily drudgery wouldn't be "that bad." That it would "work itself out."
It won't.
Let me tell you something.
If you're not passionate about what you're doing, as far as starting a business goes, the daily drudgery will consume you quickly. I don't care if your venture is going to make a billion dollars. And you won't either because you'll hate what you're doing everyday. It'll be like getting punched in the gut every morning and having the wind knocked out of you for the day.
NEVER get involved in a business if you're not passionate about it. And if you have partners, make sure they're just as passionate or you're going to ruin a relationship.
Communication
There's two forms of communicating.
Listening and speaking.
Listeners make the best communicators. That goes for listening to your gut instincts too. You're not always going to be passionate about what you're doing, but your gut instinct will let you know whether you should or shouldn't do it. And sometimes it's going to tell you to do some things you're not going to be crazy about doing.
Do it anyway or get the wind knocked out of you.