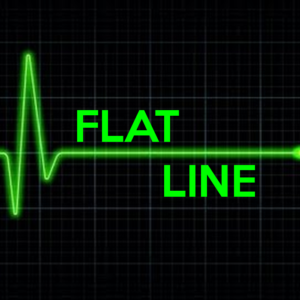 Beep. Beep. Beep. Beep. Beeeeeeeeeeeeeeeeeep.
We've lost him.
That's the sound of death. We've all heard stories of people that have come back from the dead. Whether they're in surgery, recovering from surgery or just terribly ill.
I'm one of them.
But thankfully that's not the kind of flatlining I bounced back from.
Comatose
I woke up one Sunday morning and I couldn't get out of bed. And no one could talk me into getting out of bed. I couldn't find the motivation. Life had beaten me down and I couldn't muster the energy to get up before the ten count. It wasn't supposed to be this way, though. I had worked my ass off. I'd married an awesome, beautiful woman and was raising two kids that I was very proud of. But something was missing. I had no passion for what I was doing career wise. Sunday night was usually worse too because I knew what was coming over the next five days.
I had been letting other people have too much influence over my decisions on what I should do with my life.
MY Life
And it had taken its toll. I was burned out and my tank was empty. I had never felt like this before and I wasn't sure what to do about it.
Insanity
Like a lot of people, I kept thinking things would get better on their own. It's a lie we all tell ourselves because we all know that in order for things to change, only we can change them. The definition of insanity is doing the same things over and over again and expecting different results.
I knew I could do something different, that I could be something different if I'd just put in the time and effort during my off hours. But I was so drained and life just kept throwing punches at me, that I couldn't seem to drop the gloves and get a couple of jabs in. I always seemed to be on defense having to keep my guard up trying to avoid getting hit again because it seemed like no matter how much I hit back, I couldn't counter the number of hits coming at me. The hits were financial and medical issues, which lead to more financial issues.
We Have a Pulse
Monday morning came like it always had and nothing had changed. That is nothing but my attitude. There are some things in life that are out of your control and the sooner you realize AND accept that the better your life is going to be. The bills kept coming and the health conditions weren't going to go away… ever. But, I could get some jabs in and fight back if I didn't throw in the towel. I knew what the results would be if I did that.
I had some skills that I wasn't putting to use so when I decided to come back to life, I made a plan and started moving forward. You should do the same thing because life's too short to not be doing something you're passionate about. Even if you only do it as a hobby or part time.
Start enjoying the good things in life. There's a lot of them if you don't let the b.s. tear you down.