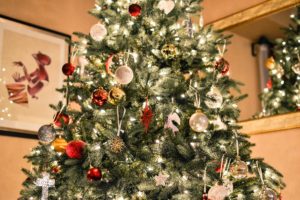 Here in America we celebrate several holidays each year. I'm not sure what the exact number is, but the main six are New Year's Day, Memorial Day, Independence Day, Labor Day, Thanksgiving and Christmas. These all have their own significance.
New Year's Day is the celebration of a new year. That one's pretty obvious. Then we have Memorial Day where we honor the nation's war dead from the Civil War onwards. After that is Independence Day on July 4th. This is the day we celebrate the signing of the Declaration of Independence from British rule and it's often referred to as simply "The Fourth." Next, comes Labor Day which celebrates the achievements of workers and the labor movement & the unofficial end of the summer. After that, we move into the fall and celebrate Thanksgiving where we traditionally celebrate the giving of thanks for the autumn harvest. Then comes the biggest one of all, Christmas. This is the holiday, at least for Christians, where we celebrate the birth of our Savior, Jesus Christ.
Merry Christmas
Many people, who are not Christians, join in this celebration. It's a beautiful time of year where friends and families gather to spend time with each other, and in many cases, exchange gifts.
Christians are not offended by the non-Christians joining in this celebration. Although they aren't exactly doing it for the same reason.
But that's ok.
It's NOT Happy Holiday
The issue I have, along with many other Christians, is the people who claim that they are offended by this. They are 'offended' when people say "Merry Christmas" to them or someone within earshot of them. These people have raised so much ruckus over this, that retailers have been 'scared' into dropping the term 'Christmas' from their ads and replacing it with 'Happy Holidays' instead.
This is ludicrous!
Why?
Because Christmas, yes, I said it, Christmas, is the only reason people are out shopping for gifts. It's called a Christmas Tree that people place in their homes and decorate. They put up Christmas lights and sing Christmas songs and wear ugly Christmas sweaters.
There's not one other holiday that's celebrated by Americans that's referred to generically as 'happy holidays.' And Christmas, I believe, is the only holiday that's acknowledged worldwide on December 25.
You're Offended?
If anyone should be offended it's the Christians. Christians don't try to change or discredit the holidays of other religions. They respect what they believe and encourage their celebrations.
Can you imagine if someone said they were going to go light some 'holiday works' on Independence Day? It doesn't even make sense. Or if they said 'happy holiday day' on all the other holidays in order to not offend someone. And what's "Merry Xmas?" I mean who was the 'genius' that thought that up? I'm not even going to expand my thoughts on this, but X is not a substitute for Christ.
Merry Christmas is a very pleasant greeting or departing phrase. It has absolutely zero connotation of anything offensive. If you don't believe in Christmas, just say thank you and move on. It's nothing to get all bent out of shape over. The person is wishing you well.
Now go enjoy your friends and family.
Merry Christmas!